New breed of 100m+ sailing superyachts is coming
Courtesy of http://www.superyachtnews.com
It seems almost unbelievable that of the 15 current projects over 100 metres four are for sailing yachts. These four projects will eclipse the existing sailing fleet led by the inspirational 88m Perini Navi three-masted, free-standing DynaRig schooner Maltese Falcon launched in 2006.
The March issue of The Superyacht Report carries a report on the next generation of sailing superyachts currently on order, as well as a complete list of every sailing yacht over 30m in build.
For pure size the 147m White Pearl in build in Germany and due for launching in 2015 will be the biggest sailing superyacht ever built although details on this project are being kept very secret.
The 141m Dream Symphony at the Dream Ship Victory yard in Turkey is a second collaboration between Dykstra Naval Architects and Ken Freivokh styling and interior (Maltese Falcon), this time a more conventionally rigged four-masted staysail schooner. Relatively narrow and low volume, Dream Symphony is being built in glued laminate wood (GLT) and is due for launching in 2016.
The 108m Solar will be the first sailing yacht project – and the largest ever Dutch build in history, motor or sail – for the Oceanco yard in Holland. Styling and interior design is by the Venetian team of Carlo Nuvolari and Dan Lenard and the sail plan uses three free-standing balanced DynaRigs, similar to Maltese Falcon, allowing for complete remotely controlled operation without any highly loaded sheets.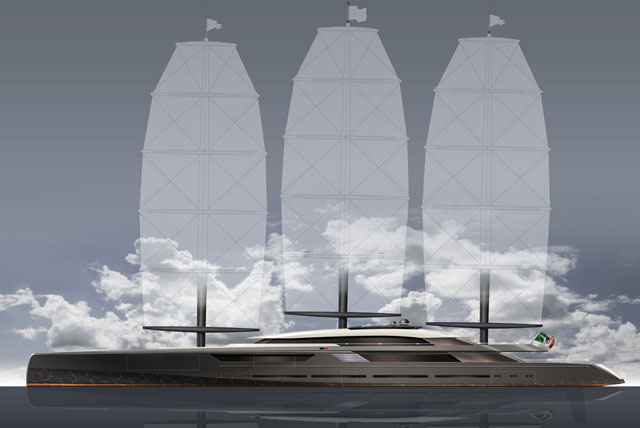 108m Solar will be the first sailing yacht project for Oceanco
The final 100m+ in the line up is a 101m sloop designed by Dubois Naval Architects. This impressive and elegant design really pushes the numbers with a single 125m carbon mast, 42m furling boom, a working sail area of 4,362 sq metres and a draft of 16 metres with the pivoting centreboard down.
101m sloop designed by Dubois
All these supersailers present major challenges in design and engineering with the incredible loads generated by the sails.
The new era of 100m+ sailing superyachts promises to be an exciting and challenging time for the industry with designers, builders and suppliers all involved in lifting owner's expectations to a new level.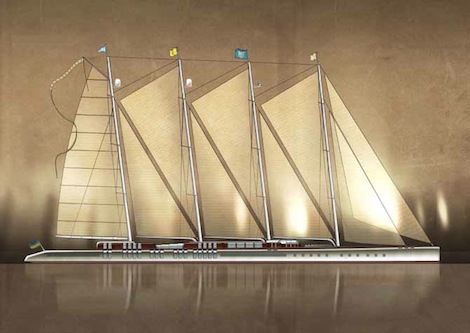 141m Dream Symphony sees Dykstra Naval Architects and Ken Freivokh collaborate once more, the last time being for the Maltese Falcon